Fully Immersed: Strategy on the water with Advisory.Works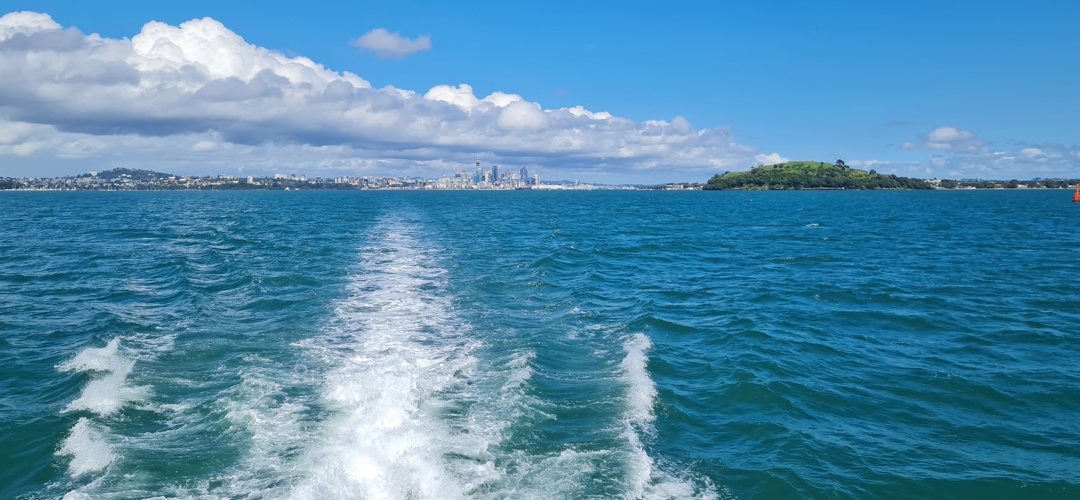 Have you discovered your blue ocean?
In early November, Advisory.Works took driven business leaders and strategic thinkers out on the water for one of our unique immersive strategy events.
We left behind the big smoke and launched onto the South Pacific waters for a beautiful Wednesday and Thursday with two groups. After cruising for an hour and settling down for some refreshments, our passionate changemakers were relaxed, smiling, and ready to take a fresh look at their organisations.
Just like our time at Hampton Downs in July, our session on board the beautiful SAVOY wasn't just about having a great time on the sea and enjoying some excellent company. Advisory.Works' immersive strategy events offer leaders the chance to step back from operations, change scenes, and think about the big picture. With a long, shallow global recession anticipated for 2023, many business owners are considering how they can mitigate the worst effects, manage their operations to continue having a purpose-led impact, and motivate their people to do great work.
Our day featured three very different sessions. Here are the main takeaways from the event – and what you need to be thinking about this summer to gain a strategic advantage into 2023:
Innovation can be systematised
The peerless Chris Pope led our first session on the core concept of innovation.
All businesses should – and must – innovate. You should continually look at ways you can become more efficient, scale with ease, deliver your products and services faster and differently, and create exceptional customer experiences.
That's why innovation isn't just One Great Idea that occurs in the shower. Instead, as Chris detailed, innovation can become part of your organisation's mindset by instead getting your people to consider three key concepts:
Why doesn't it work well enough?
Something doesn't work properly, or as well as it could. Why is that the case? What is the problem that's getting in the way?
What if…?
Play the imagination game. What if the issue/challenge/situation/delivery/model were different?
How?
Now that we know what the problem is, and we have a vision for better – how can we realise it?
That's it. Simple, open questions that, once brought into your culture, can inspire big changes or small evolutions to your organisation that will set you apart. In fact, they're so simple that they're often misunderstood. Embed these questions into your operations, and start evolving.
As we explored, in some cases, innovating will mean pulling back. A meaningful and well-understood strategy (especially during a downturn) is to remove unprofitable products and services so you can focus on high-value items. But that's only a high-level approach.
As Chris explored, an aggressive simplification and focus of your organisation will change how you approach your market – but can also be the point of difference you need to succeed. Take McDonald's, for example, who perfected a Speedee Service System and limited the menu to core items like hamburgers, shakes and fries. They catered to a new fast-food market, and it worked. Adobe and Microsoft both shifted to SAAS models during the global financial crisis of 2008-9, and while they took a big hit in revenue at the time, they've more than increased their market values since then.
Bold moves are necessary when everyone else is going backwards – so what will you do differently?
Discovering a blue ocean
Our second session discussed the difference between blue and red ocean strategies – concepts described by W. Chan Kim and Renée Mauborgne in their 2004 book
Blue Ocean Strategy.
In a busy, red ocean, you're competing with others in your market. Everyone's trying to fight for the same customers – and that means there tends to be blood in the water.
In a blue ocean, you do things so differently that you make the competition irrelevant. You push your strategic point of difference so that you become the obvious choice.
Logan and Grant co-facilitated exercises that had our participants consider the airline industry and what sorts of things could be eliminated, changed or reduced without affecting services – and push a point of difference. The group then were invited to look at their own organisations and consider what competitive changes they could make; they thought about where they were producing work that was adding no value to their operations – and where there is demand that no one is yet servicing.
With your own organisation, there are undoubtedly directions you can and should be pushing that will set you apart. Sometimes that means cutting away the fat; other times, it's discovering a need that others haven't and being the first to market.
Naked Audience
All the strategies in the world mean nothing if you can't bring people along on your journey. Just as well our third session was led by Miriam Chancellor of Naked Audience, whose interview and presentation skills have helped ambitious professionals maximise their delivery and succeed.
Miriam led a presentation on how to present to audiences big and small. She covered the key elements of structure and body language that often go unnoticed, but which have a huge impact when it comes to winning new work.
Following the blue ocean part of our day, participants were invited to present new ideas about their own blue oceans, channelling Miriam's insights into compelling talks that inspired followings.
Bringing the right stuff home
At the end of a beautiful couple of days on the water, our participants were invited to consider what they were going to leave on the water – and what they'd bring back home.
Some felt freer for having the chance to step back and away from firefighting, and to change perspectives. Others couldn't wait to trim their businesses of dead strategies and discover their own blue oceans. Our NPS results were exceptional with an average of +95 – showing us that immersive strategy is the much-needed antidote to boardroom boredom and business-as-usual.
After a day on the boat – some six hours in total – our business leaders were relaxed, empowered, and ready to look at their organisations with new eyes and an innovative future.
We can't wait for the next event in early 2023.
---
The post Fully Immersed: Strategy on the water with Advisory.Works appeared first on Advisory Works - .